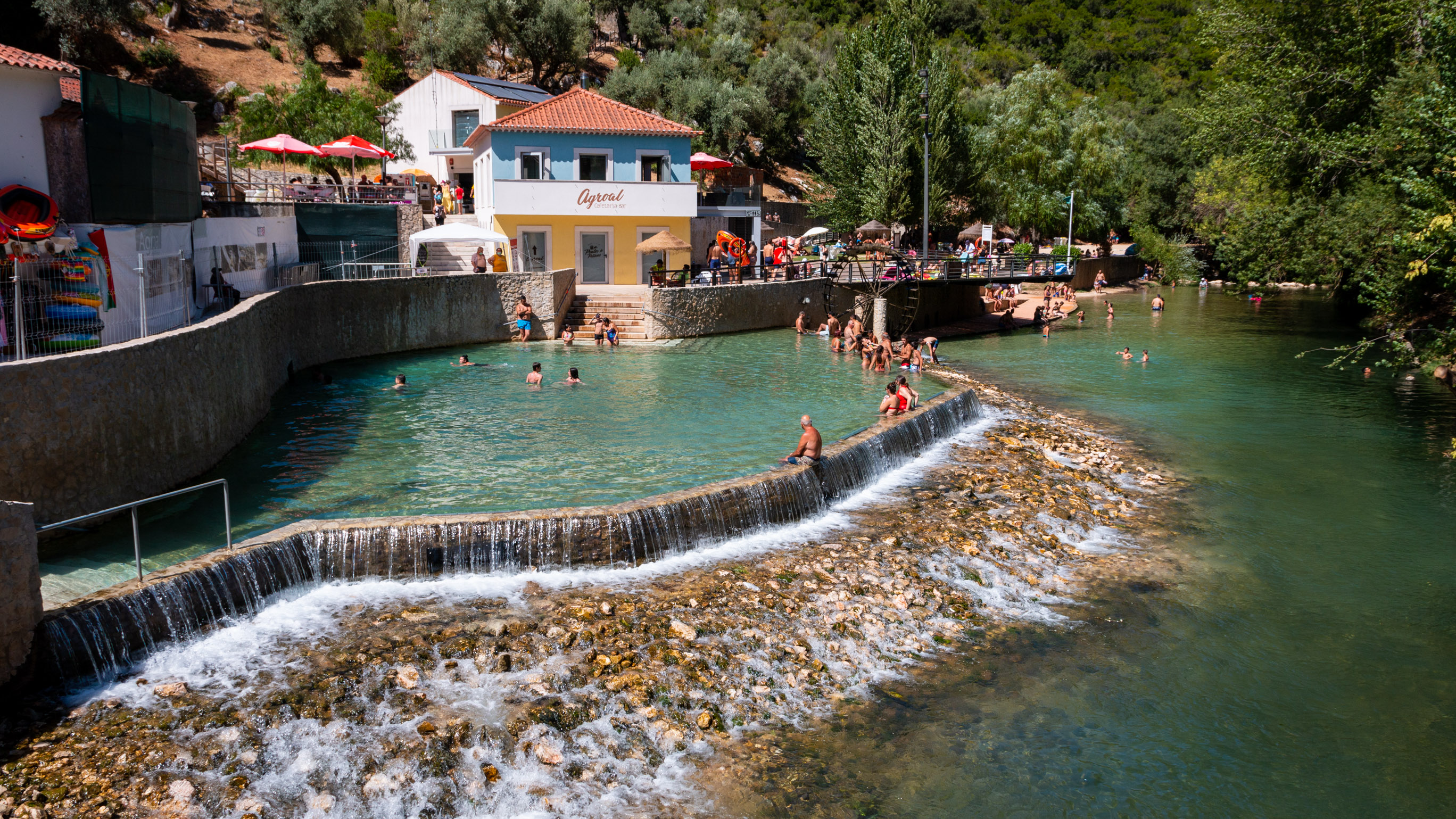 River beaches have a different environment than sea beaches, somehow providing moments of leisure where we disconnect from what is secondary and connect more to our terrestrial origins. In contrast to the sea beaches, the rivers live more slowly, perhaps because the water courses are in perfect communion with nature, the mountains and the trees. Even the public seems different, you see more young people who love old school picnics and water sports. Everything can live together peacefully, everything is very calm. There is practically no wind by the river and you will not catch that sea fog that triggers comments like: «- Ah! But how! How is it possible to be like this … all cloudy! It was so hot in our town ». Prepare the inflatable pool mattress, buoys, the bodyboard and visit these small river havens.
1. AGROAL RIVER BEACH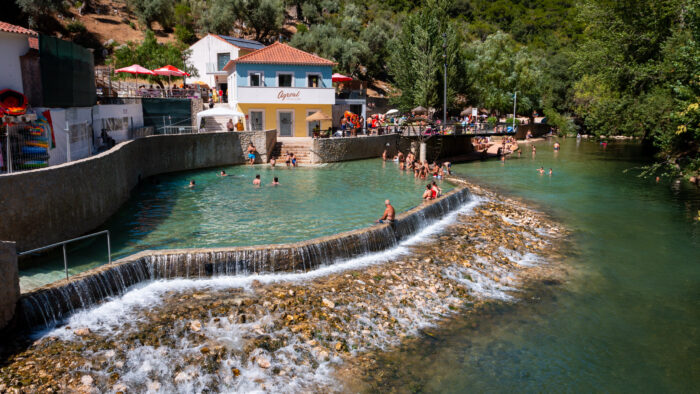 Distance from Fátima: 30km
Agroal River Beach is open to the public from the 1st of July and lasts until the 15th of September. It is a different: it has a prey of water with a very cold temperature (compared to the other beaches) and because it has therapeutic properties since 1930. It is the largest source of water in the Nabão River. Since 2017, it has received the blue flag award for water quality and environmental management of the area. This year is limited to 200 people and has a small area for parasols. You want to know how to deal with a scorching hot day: cool off in the cold water of the Agroal.
2. OLHOS DE ÁGUA RIVER BEACH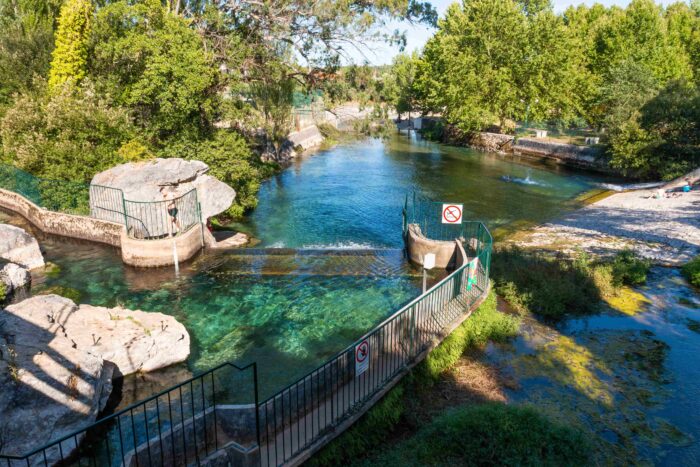 Distance from Fatima: 30km
Olhos de Água River Beach it is part of the source of the river Alviela and is a paradise of crystal clear waters. It has a small beach and a green surrounding area, full of trees that are the best possible umbrella to relax on hot days. There are barbecue grills and tables for picnicking and a walking route to discover the underground galleries. You must know this place of peace and tranquility, a small aquatic paradise in the municipality of Alcanena.
3. LAGO AZUL RIVER BEACH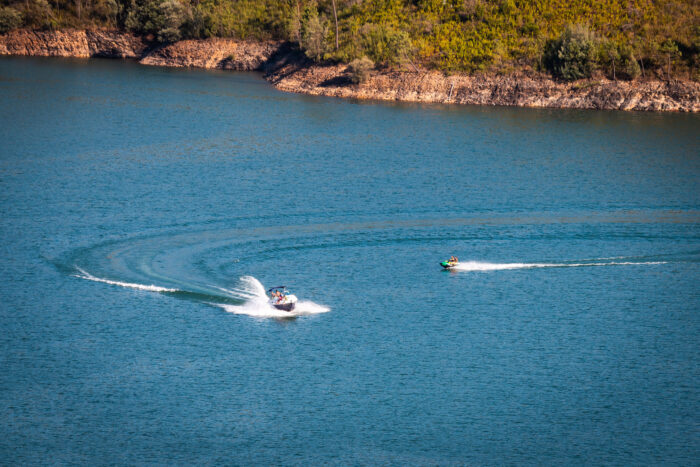 Distance from Fátima: 61 Km
One of the main tourist destinations in Ferreira do Zêzere, where the natural beauty and nautical club of Lago Azul stand out. As soon as you start going down to the river you will notice a kind of film set, the river water is unmistakable blue and contrasts with the green of the surrounding hills. It is the perfect setting for an afternoon of sun and river. The dives in this blue paradise are so relaxing that they makes you forget everything else. You can enjoy the various nautical activities, the floating pool and all the pure nature for free.
4. ALDEIA DO MATO RIVER BEACH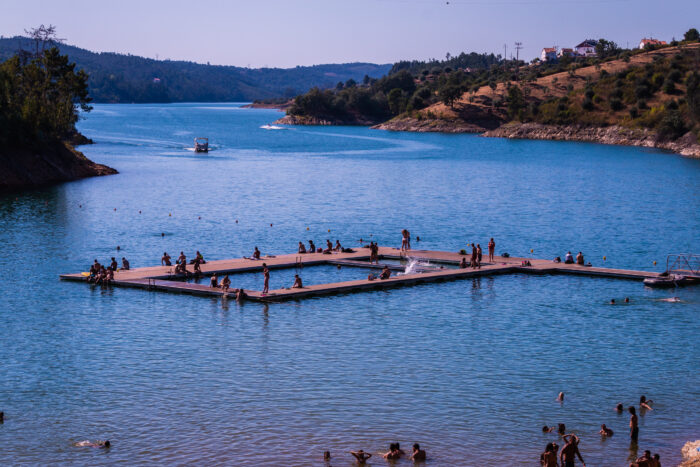 Distance from Fátima: 65 km
Aldeia do Mato River Beach is part of the Castelo de Bode Dam reservoir, may seem similar to the previous one, but only by the platform on the water. This one has a nice sand area where you can lay in your towel. There are walkways that connect the cafe to the beach and serve as a shade for some visitors. Other than that, there are not many trees by the river, but the experience is worth it. Scenery of pure tranquility only interrupted by the noise of jet skis passing by.
5. CONSTÂNCIA RIVER BEACH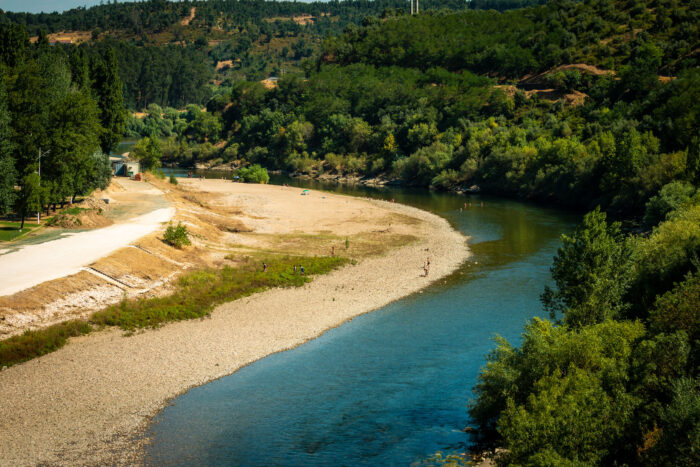 Distance from Fatima: 69 km
Located on the riverside of the village of Constância, this river beach is a delight. This is where the Zêzere River meets the Tagus, a real hydrographic work. It has a good beach and a lawn area where you can relax or have a picnic. If you didn't come prepared, there are several cafes and restaurants to have a snack. It is also a very well-known place for canoe lovers who usually start a river descent here. In the village area you can visit the Centro de Ciência Viva, which we also mentioned in this itinerary.